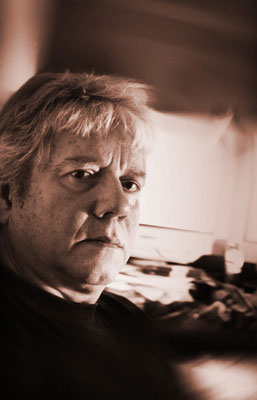 John Neel
John Neel's art and photography is often described as inspiring, inventive and experimental.
He is an artist who loves to play with images. It is the playing that leads to discovery, then to experimentation, and ultimately to an entirely new way of seeing. Yet his images go far beyond play and focus on subject matter that is poignant in regard to social, environmental and spiritual issues.
John's photography captures the significance found within the often ignored, common or trivial things we hardly even notice in our everyday lives. The things that have become invisible to us.
He depicts the world with a new eye, illuminating the details. His photographs give us pause to slow down and contemplate the true significance of the world that surrounds us.
"Everything has to do with light, energy, and our physical being; the complexity and simplicity of the things surrounding us and our place within this force," John says.
"We are connected to everything in our environment. Everything is relative to us physically, emotionally and spiritually. Yet we rarely even notice the seemingly commonplace surroundings in our daily lives. We take these things for granted."
"It's easy to go someplace that is foreign where we see things that are new to us, but if we just pause and look all around us we can find things in our everyday existence that are truly beautiful. We begin to see the familiar, in an entirely new way. We learn a new appreciation for our environment and for our place within it. We become more connected."
As an artist, John has a keen interest in evolving and emerging technologies. John is rooted in both traditional as well as new technologies and his techniques embrace merging the two together.
Manipulation is more a reflection of his thinking process, not meant to confuse, but to unify a point of view and to bring relationships to seemingly unrelated subjects, provoking further thought.
His photographs show us our world as we've never seen it before. His work fascinates, intrigues, and excites us. It stimulates us to appreciate the significance in the details of our world, leads us to self-examination, and how it all relates to us. All while providing beautiful images!
John combines his knowledge of photography, video, computer graphics, new media and 3D animations to create his unique imagery.
His images generally deal with social, environmental and spiritual subject matter and evoke a thoughtful and reflective sense of being immersed in the moment with the photographer.
John has a Masters Degree in Fine Art photography and computer imaging from the State University of New York Visual Studies Workshop where he studied under Nathan Lyons. Mr. Lyons has been credited with "turning the Visual Studies Workshop into one of the most remarkable institutions in the contemporary history of American art and culture, whose graduates, faculty, and friends are, without much exaggeration, the Who's Who of American Photography."
He has studied with many of the best photographic and computer image makers in the US and Canada, including: Nathan Lyons -SUNY VSW, photography, theory and culture; Joan Lyons - SUNY VSW, graphics and artist books; Doug Rea - RIT, digital photography and computer Imaging; Oscar Bailey - University of South Florida, photography; Stan Vanderbeek - University of South Florida, visiting professor, experimental video; Betty Hahn - University of South Florida, visiting professor, alternative photography; Mark Klett - Arizona State University, SUNY VSW, photography; John Wood - SUNY VSW, visual books; Roger Mertin - University of Rochester, photography (MFA Thesis Advisor); Stan White - Sheridan College, Canada, stereo 3D photography; Heather Wetzel - SUNY VSW, collodion wet plate photography; Aharon Chernov - RIT, 3D animation and modeling; Peer Bode - Alfred State, SUNY VSW, Summer Institute, experimental video; Bill Johnson - SUNY VSW, photo history; and Susie Cohen - SUNY VSW, photo history.
He received his undergraduate degree from the University of South Florida, School of Fine Arts.
John's work has been exhibited and collected by public and private galleries in the US and Canada. Galleries include the George Eastman House and the Art Gallery of Ontario. He is also featured as a Polaroid Gallery Artist.
His photographs and computer art images have been published in magazines in the US, Canada and Europe. He has also taught photography, digital imaging and animation classes at major universities in the US and Canada.
EDUCATION -
Master of Fine Arts, State University of New York, Brockport, NY, Visual Studies Workshop
Bachelor of Arts, University of South Florida, Tampa, Florida
TEACHING -
Professor of Computer Imaging, Photography and Animation, Monroe Community College, Rochester, New York, Adjunct 2006 to present
Instructor of Photography, Nazareth College, Rochester, New York, 1998 - 1999
Instructor of Photography and Electronic Imaging, Rochester Institute of Technology, Dept. of Applied Photography, Rochester, New York, Adjunct 1992 - 1995
Instructor of Photography, Visual Studies Workshop, SUNY Brockport, Rochester, New York, Adjunct 1991 - 1992
Instructor of Photography, Sheridan College, Oakville, Ontario, Canada, 1973 - 1989
EXHIBITIONS -
Finger Lakes Exhibition, Memorial Art Gallery, Rochester, NY 2007
Salon des Refuses, VSW, Photo City Gallery, Rochester, NY 2007
Pinhole Photography Invitational, Community Darkroom, Rochester, NY 2007
VSW Silent Auction, 2003, 2004, 2005, 2006, 2008
Polaroid Portfolio Gallery - Artist Portfolios, 2005
Worldwide Pinhole Photography Day, electronic gallery, 2003, 2004, 2005
Uforkestra- Summer Solstice Slamm 2003 Photography/Electronic Imaging and Music - VSW, Rochester, NY
Electronic Imaging Show at RIT- July 1993 in conjunction with Montage93
Photo Faculty Show, RIT Bevier Gallery, Rochester Institute of Technology, January 29-March 03, 1993
Graduate Thesis, Visual Studies Workshop, Rochester, NY, March 29-April 03,1993
Bay Area Photographers, Burlington Cultural Centre, Burlington, Ontario, Canada, May 24-July 26, 1992
Landscape on the Edge, Rochester Institute of Technology, SPAS Gallery, May 1992
Faculty Show, RIT SPAS Gallery, January 1992
National Student Media Arts Exhibition, Visual; Studies Workshop, Rochester, New York 1991
Mercer Gallery, Monroe Community College, Rochester, NY, 1991
1990 Finger Lakes Exhibition, Memorial Art Gallery, Rochester, NY, March 31- May 13, 1990
TPW-PHOTOGRAPHY GALLERY: Workshop Members Exhibition
The Photographers Union, Hamilton, Ontario, February 1985
Gallery 44, Toronto, Ontario June/July 1984
The Magic Image, Pickering, Ontario October/November 1984
TPW-PHOTOGRAPHY GALLERY: Summer Salon
Toronto Photographers Co-op at Factory 77
Deja Vue Gallery, Toronto, Ontario
Toronto Photographers Workshop, Toronto, Ontario
Art Gallery of Ontario, Toronto, Ontario, Canada
Purdue University, Lafayette, Indiana (group show)
Theater Gallery, University of South Florida, Tampa
PUBLIC AND PRIVATE COLLECTIONS-
George Eastman House, Rochester, New York
Visual Studies Workshop, Rochester, New York
PUBLISHED WORKS-
Lake Affect Magazine 2006
Lightleaks Magazine - 2006
VSW Silent Auction 2003 - 2005
Uforkestra Web Gallery
Work used to promote Montage93, Rochester, NY, 1993
Photo and Electronic Imaging Magazine, July 1992
Bay Area Photographers, Burlington Cultural Centre, Burlington, Ontario, Canada, May 1992
ESPRIT Magazine (electronic imaging) Rochester Institute of Technology, Rochester, NY Spring 1992
Consort, Rochester Photography and Film Consortium May/June 1990
Parallelogramme Vol.9, No5, ANNPAC (Canadian) 1994
NOW Magazine, McLean Hunter Publications, Toronto, February 1979
Printletter No. 16, July/August 1978, Zurich, Switzerland
Exposure: Canadian Contemporary Photographers, Art Gallery of Ontario, Toronto, 1975
PROFESSIONAL AFFILIATIONS-
Society for Photographic Education
George Eastman House
Past member - Toronto Photographers Workshop, Toronto, Ontario, Canada
Past member - Hamilton Photographers Union, Hamilton Ontario, Canada
Past member - Gallery 44, Toronto, Ontario, Canada
Founding member - NIIPA (Native Indian Inuit Photographic Association ) Canada
Contributor - Photo Communique (Canadian Art Photography) Gail Fisher-Taylor
GRANT RECEIVED-
Ontario Arts Council (for work in 3D Stereo photography)
PATENTS-
Holds a number of US and International patents relative to digital imaging